The Real Money Lucky Creek Android Casino App
We're heading ever closer to Global Village status as technology advances in leaps and bound each year. Our loved ones on the other side of the world are now no further away than a video chat, work can be accomplished at the flick of a button, and shopping is easier than ever.
These magical little devices allow us access to just about anything, so the fact that your smartphone or tablet can use the Lucky Creek Android casino app to get you into the winning seat should come as no surprise.
One of the giants in the corporate world, Google is the company we have to thank for the Android operating system. These handheld devices are hugely popular the world over and, due to this prevalence, our Android casino app will easily get a large number of our players access to the games they love. A small download and easy installation are all it takes to start having some real money fun!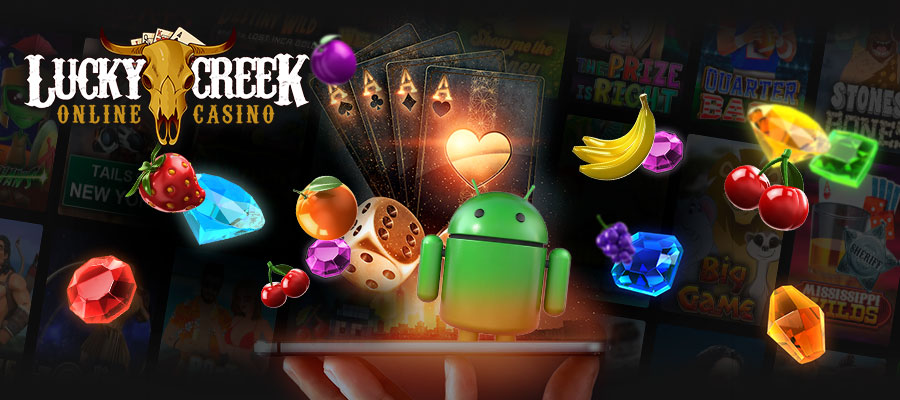 The Lucky Creek Android Casino Experience
Forgive us for our firm belief that our real money casino Android app is one of the best available anywhere. We know that this is true because we have ensured that our players never have to compromise on the quality of their experience when they access our entertainment this way. All the same amazing features that you've become used to at the Lucky Creek online site are in place when you're playing on the go, too.
The banking options are as safe and trustworthy as even the most demanding player could ask for on the Lucky Creek Android casino. You will be protected at all times, making the deposit and withdrawal processes a breeze.
The game graphics are crystalline, the sound effects are crisp and clear, and the animated sequences play out lag- and freeze-free. Games have been optimized to make use of the smaller screen in full, so you won't notice any kind of lack.
Whether you enjoy slots the most, prefer trying your luck at any of our amazing table games, enjoy Video Poker action the most, or like to engage in real time with our Live Dealers, it's all possible when you're using the best online casino Android app created by Lucky Creek.
Convenience and Quality
The reason that Lucky Creek set out to create the best online casino Android app is that we know full well how busy our players are. There are very few who can find the time to sit down at their desktop computers for any length of time, much less enough to play the games they love. And, while navigating to our site is certainly an option, installing our app saves you that much more precious time.
Using the best online casino Android app to play real money games sees them up and running in next to no time. So, you can put those moments where you can let your hair down and have some fun to their best use!